Hey everyone! We are doing another intro to 3D printing session, with a spotlight on using how 3D printed food has been used in movies and fashion. Poster image features Angela Bassett's award winning costume for Queen Ramonda in Marvel's Black Panther.
3D printed clothing has a wide range of utilization. Many are using 3D printing to create unique and physics defying fashion. There is also quite a lot of public interest for creating customized clothing at home.
In this class, we will cover all our usual basics of 3D printing from start to finish, with just a few talking points on a few popular 3D printed outfits, as well as the advantages and disadvantages of making your own clothing at home. Find out more by signing up for this workshop and we look forward to seeing you in the class!
*Note – The first 25 tickets are free and the rest 100 require a minimum donation of $1. Sign up fast!
image below credit: XYZ Shoe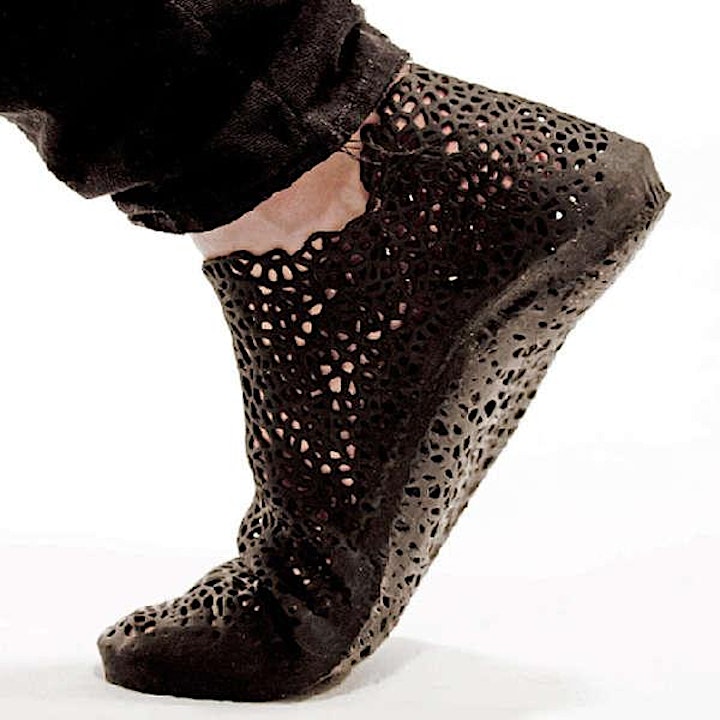 This class will be hosted by SPORE's outreach director, Jeanette Blasius who has many years of experience in 3D printing for a variety of different applications including costuming and art.
This workshop will begin with a demonstration into the basics and how to get started, then finish with a brief Q & A session.
If you would like join SPORE for this workshop, please RSVP for this event. Near the time of the event, a link to the zoom meeting will become available to join the online workshop.
Spore is an outreach program of Mycelium, a 501(c)(3) non-profit organization that is focused on knowledge, research, and development of circular economies and related technology. Please visit our website for more information on us and the projects we are working on.
Feel free to donate to our parent NGO, Mycelium or become a Patreon of SPORE for helping us continue free classes and educational outreach to empower people with self-resilience.
Join and follow us on social media:
*Note – By signing up for this event, you consent to receiving email communications from SPORE. We will send you the class recording and monthly emails on our work and events.